: 6 :
In the meantime, all over India agitations and uprisings against the British rule where on the increase. In 1920, Lokmanya Tilak died, and Gandhiji became the leader of the Freedom Movement.
Under his guidance, the people went on Satyagraha to fight against injustice. He was arrested and imprisoned many times, but that did not deter him and his loyal followers. They continued their fight for freedom with even greater fervor.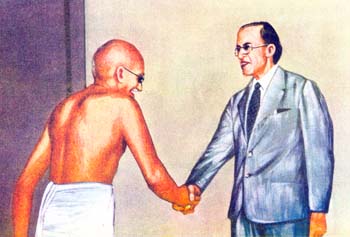 Gandhiji was greatly respected for his simple living, high thinking, and fearless attitude. The British too were greatly impressed by him, and called him for negotiations regarding India's freedom. Since it had been decided that the freedom struggle would not stop until full freedom was granted, the negotiations did not serve any purpose.
Various forms of Satyagraha and Civil Disobedience movements took place at that time. The `Swadeshi Movement' (to use local made goods) was one of them. Gandhiji advised and encouraged the people to use Indian goods and use Khadi (hand spun cloth). He himself wore Khadi clothes, and would sit to spin on his Charkha (Spinning wheel). People stopped buying British made goods. Instead, they lit bonfires of these goods.
The Government, with the help of the police and the army, tried its best to put an end to all these demonstrations and agitations, but these were unsuccessful. On the contrary, they became more intense. The Government had imposed a tax on salt, and Gandhiji started the `Salt Satyagraha'. He and many other leaders were imprisoned, but the struggle for freedom continued with greater intensity.
While India fought for freedom, in Europe, the second world war had begun. The British looked towards India for help, but Gandhiji started the Non-co-operation Movement.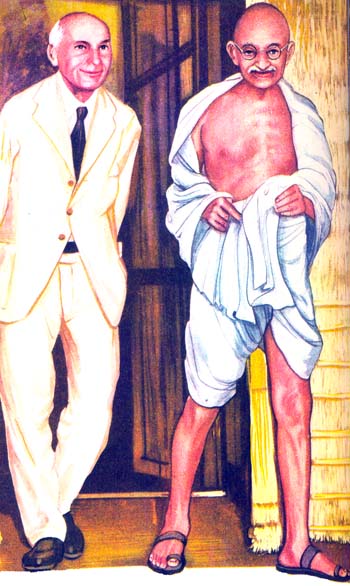 Jawaharlal Nehru and many other Indian leaders joined the movement because they all had immense faith in Gandhiji.
The British Government thought it would please the Indians by granting them partial freedom. Once again they began negotiations with Gandhiji, but Gandhiji made it clear that he and his people wanted nothing less than complete freedom (Independence). To make this demand stronger, the Indian National Congress passed the Quit India resolution in 1942, wherein they demanded that the British leave India immediately. Angered by this resolution, the British again imprisoned him and his wife Kasturba. Kasturba died in jail. She was always behind him in his freedom movements and the other leaders.
Many secret organisations were formed as a result, and they put a number of obstacles in the regular functioning of the Government. Around this time Netaji Subhashchandra Bose formed his `Azad Hind Fauj' in Japan. Many Indians who were in the British Army, left it and joined the Indian Netaji's Army.
The British Government realised that it was now impossible for them to continue their rule in India, They released Gandhiji and other leaders from prison, and once again began negotiations with him.
Finally, on 15th August 1947, India attained freedom, and for the first time the Indian tri-colour National flag fluttered on the Red Fort in Delhi. However, in its fight for freedom, India had to pay a heavy price. What was once a large single geographical unit, now comprised of two new nations - India and Pakistan.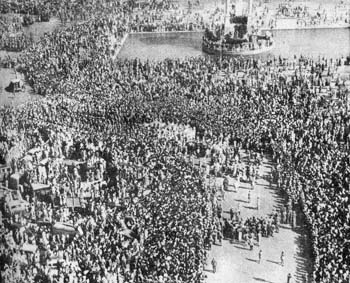 It was during this period that Hindu Muslim riots took place all over the country. People of both communities were killed brutally, and there was large scale bloodshed all around. Gandhiji put his life in danger, pleaded with the people and made ceaseless efforts to stop this senseless killing.
After Independence, Gandhiji concentrated his attention on the betterment of the downtrodden people. He went from village to village and advised the people that for the good of the country it was necessary for everyone to work together in unity and harmony. Equal opportunities and equal status was what he wanted.
Although Gandhiji strived so hard for unity, there were some people who were under the misconception that Gandhiji favoured the Muslims.
On 30th January 1948, in Delhi, when Gandhiji set out to attend a prayer meeting, he was shot dead by an assailant. His last words were 'Hey Ram'.
The Great Mahatma's life had come to an end! The news shocked everyone. Not only India, but the whole World mourned the death of the great man-a real Mahatma, who had dedicated his entire life to the service of humanity, and had taught the importance of truth, and nonviolence. The most befitting tribute that we Indians can pay him, is to follow the path he had shown us.