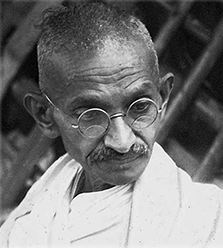 Gujarat Vidyapith invites applications from interested individuals for the 'International Course on Gandhian Nonviolence: Theory and Application (Batch: 2023-24)'.
The duration of the course will be one semester i.e., four months - two months for theoretical input and two for gaining practical experience. The course will commence on 2nd October 2023 and will be completed on 30th January, 2024.
While the course is absolutely free to enroll (including all meals and accommodation) and learn from, the interested candidates are requested to send their curriculum vitae (CV) along with a letter of motivation on or before May 31st, 2023, for the review of the Selection Committee. However, an early response will be deeply appreciated.
This unique program allows people to find various ways of non-violent & sustainable lifestyle, enjoy the simplicity of the green campus of Gujarat Vidyapith, and experience the virtues of Mahatma Gandhi. This program might change the perceptions of the participant towards life, society, core life values, and our natural resources. Also, this might help the participant find peace and satisfaction within.
The applications are to be submitted through e-mail: registrar@gujaratvidyapith.org; patoregistrar@gujaratvidyapith.org; premmishra.peace@gujaratvidyapith.org at the earliest.
For more information, please contact:
Pushpak Jhaveri,
Gujarat Vidyapith,
Ashram road, Ahmedabad 380009, Gujarat, India.
Mobile: +91 8128805310 | Phone: +91 79 40016200,
Website: https://www.gujaratvidyapith.org